Are you facing an investigation, complaint, or any licensing issues in your profession? Well, you don't have to go down easily, especially if you feel the process is unfair. Rather, you need to hire the best Brownsburg professional license attorney. Thanks to Rathburn Law, you have all the legal protection you need when defending your license. We are here to help. Call us now and get in touch with one of our top-notch professional license attorneys in Brownsburg, Indiana.
What Is The Process Of Complaints And Investigation By Professional Licensing Boards?
In Indiana, the professional licensing agency is made up of boards and commissions. They are tasked with disciplining license holders who violate their practice standards or act unethically and dishonestly. All regulated professions must adhere to the set practice standards. Note that, these practice standards as well as rules and laws specific to each profession, are used as the foundation to determine how various licensing boards will discipline their licensed professionals.
A consumer or client can file a complaint with the Indiana professional licensing agency. They can also file a complaint with the Indiana attorney general. Regardless of how the complaint is filed, the attorney general must first review it. If there is enough evidence to suggest that there is merit to the complaint, the attorney general will forward it to the respective board or commission to initiate a legal process against the license holder.
The attorney general is tasked with seeking disciplinary action. The board or commission will hold a hearing to determine the outcome, including any disciplinary actions necessary. During the complaint process, the state of Indiana is the petitioner while the deputy attorney general represents the state. The complaint describes in detail the alleged action of the professional, usually referred to as the respondent. It states that the respondent has engaged in behavior that violates standards of practice.
Note that, it also involves a complaint for a summary suspension. It is a general statement of facts that alleges the respondent presents an immediate danger to public health and overall safety if they are continued to practice. Disciplinary hearings are handled before an administrative law judge or board. A case may be resolved with an agreement to a settlement thereby not requiring an evidentiary hearing.
After a disciplinary hearing, the board starts deliberations to make findings of the facts and conclusions of the case before deciding the appropriate action. Some of the possible sanctions include suspension, revocation, censure, reprimand, or probation of the professional's license. The board may also impose a fine (not exceeding $1,000) for each violation.
What Is The Impact Of Criminal Convictions On A Professional License?
If you are a licensed professional in Indiana, your livelihood may be in trouble if you have a criminal conviction. Note that, different authorities in the state are constantly reviewing court records, investigating complaints, and running fingerprint checks. Therefore, if you don't have a clean record, your professional license may be revoked or suspended immediately.
As a professional, you have a vested interest in your license. As such, the licensing agency or commission that regulates your license will not take away your license without proper cause. Also, as previously mentioned, you have to go through a disciplinary hearing before any of these actions can be taken on your license.
With the right professional license attorney in Brownsburg, Indiana, you can rest assured that your license is safe. If you feel that the complaint against you is biased or unfair, we are here to help. At Rathburn law, we always put our clients first. We are here to make sure that you don't lose your livelihood. Let us represent you in your disciplinary hearing to ensure the best outcome for your case.

What Activities May Put Your Professional License At Risk?
In Indiana, licensed professionals offer different services in various niches. These include accounting, healthcare, social work, therapy, real estate, nursing homes, dental, architects, and veterinarians among many more. Well, if you are wondering what activities may put your professional license at risk, here is what you need to know.
1. Medical Malpractice
Here, you may be charged with medical malpractice for giving a patient the wrong diagnosis, providing the wrong medication, or performing unnecessary surgeries that may put your patient's health at risk.
2. Theft Or Fraud
Any attempt to steal from the general public or provide services in pretense will put your professional license at risk.
3. Driving Or Practicing Under the Influence Of Drugs And Alcohol
It is an offense to get behind the wheel of a vehicle when you are under the influence of drugs or alcohol. Alternatively, you are not supposed to offer services to your clients under the same conditions.
4. Embezzlement
Stealing from the company for your own personal use may put your professional license at risk. Embezzlement is a federal crime.
5. Domestic Abuse
Have you been charged with domestic abuse? Well, your professional license may be at risk.
6. Failure To Disclose Disciplinary Actions From Other States
Did you receive any type of disciplinary action from other states while you were practicing? You need to disclose it before getting a new license in a different state.
If you or your loved one has a complaint filed against them due to any of the reasons named above, we can help. With our professional license attorneys in Brownsburg, Indiana, we are ready to make sure that you receive the best outcome from your disciplinary hearing. Call us immediately if you have been charged with any of these offenses for the best results.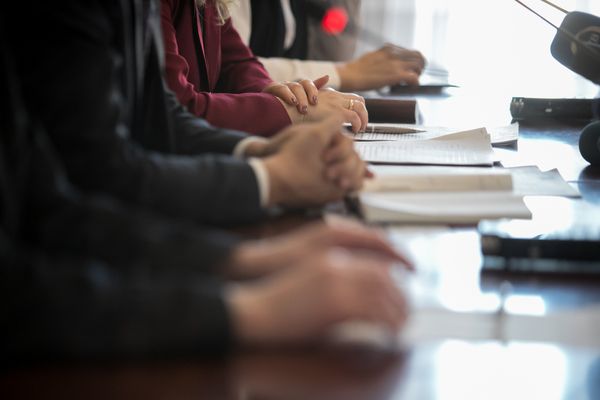 How Can An Attorney Help You Defend Your License?
Are you wondering how we can help you defend your license? Well, at Rathburn Law, we have handled different types of disciplinary cases in Indiana. We have worked with different professionals in various niches. Therefore, we are ready to help you in the following ways if you contact us.
1. Gather Evidence
If you want the best outcome for your case, you need to make sure you have the best evidence for the case. Let us help you gather the right evidence for your case.
2. Tracking Witnesses
Do you have witnesses who may speak on your behalf to avoid the worst outcome possible? Let us help you track them so they can help make your case for you.
3. Negotiations
If there is a settlement in place, we can help negotiate it to avoid further distraught effects from your case.
4. Litigation
If your case ends up in court, we are ready to represent you in court. With our extensive experience, you can rest assured that your case is in the best hands.
We have worked with different types of professionals over the years we have been in business. Therefore, feel free to call us if you are an accountant, doctor, lawyer, nurse or pharmacist. We understand everything there is to know about practice standards and morality clauses. We are ready to help you defend your professional license and your livelihood.
Contact Your Brownsburg Professional License Defense Attorney at Rathburn Law
If you are worried about hiring a professional license defense lawyer, you don't need to feel overwhelmed. Our experienced team at Rathburn Law will take you through the entire process without any hassles. We are here to make sure that you maintain your livelihood. Regardless of the case against you, we can always present the facts of the case to ensure the best outcome. Feel free to call us immediately if you have been charged with an offense.
Remember, disciplinary hearings can be quite hectic especially if you have never done one. Therefore, let us represent you and handle your case without any hassles. Call us now and get in touch with the best Brownsburg, Indiana professional license lawyers at Rathburn Law.