Most individuals today know that it is illegal and dangerous to drive after drinking alcohol or using drugs. Drunk driving is a major factor in Indiana vehicle accidents, frequently resulting in fatalities and severe injuries. Due to this, DWI and DUI laws are severely upheld throughout the state. A conviction can result in severe repercussions like probation, jail time, fines, court fees, suspension of your driver's license, and DPS surcharges. A Carmel DUI Defense Lawyer may be the key to you staying out of jail.
A DWI conviction carries several negative consequences in addition to possible jail time and hefty penalties. The State Board in charge of that profession has the authority to revoke or deny a professional's license. Teachers, EMTs, and firefighters can lose their licenses. Commercial drivers' and pilots' licenses may be revoked.
No matter how stringent Indiana's drunk driving rules are, a similarly aggressive Carmel DWI defense lawyer will assist you in fighting a DWI arrest or criminal prosecution. A Carmel DUI defense attorney will investigate the specifics of your arrest to determine the best strategy for arguing your case in court. You might be able to have the charges against you reduced or even dropped with the assistance of solid defense from a determined DWI defense attorney in Carmel.
For many years, Carmel DUI defense attorneys at Rathburn Law have assisted clients in fighting DWI and DUI charges. Throughout this time, we have gained a lot of knowledge regarding the types of defense tactics that are effective in Indiana DWI courts, and we apply this knowledge to benefit our clients. Contact us at 317.671.8965 to defend your driving privileges, freedom, and future while helping you beat a DWI or DUI accusation in Indiana.
What Is The BAC (Blood Alcohol Content) Limit In Indiana?
Blood alcohol concentration, or BAC, is the amount of alcohol in 100 milliliters of blood. BAC can also refer to breath alcohol concentration, often determined with a breathalyzer and quantified in grams per 210 liters of breath. Indiana has a limit of 0.08% BAC for how much alcohol you can consume, similar to most other states.
Just because 0.08% is the legal limit does not indicate that you cannot be intoxicated at a lower BAC. Your decision-making, logic, self-control, and reaction times slow down when your BAC is 0.06%. Driving is risky, with even a small amount of alcohol in one's system. Drivers with a BAC of 0.06% are twice as likely to be in a fatal collision than those entirely sober, even though they are below the legal limit.
Consequently, the legal BAC level for drivers under 21 is lower in Indiana than in the rest of the nation due to the state's zero-tolerance policy. A youngster may face the consequences even with a BAC of 0.02%. These offenses are called Class C violations and include penalties that don't apply to adults.
What Penalties Can I Face For A DUI In Indiana?
Indiana classifies most drunk driving offenses as Class C misdemeanors. This occurs when the driver's BAC is higher than 0.08% but lower than 0.15%. These are some possible penalties for this charge which include:
First time
You risk up to 60 days in jail and a $500 fine if you get arrested for DUI in Indiana for the first time. Your driver's license is suspended for more than 180 days, and the vehicle must have an ignition interlock for up to 60 days.
Repeat offenses
For the second, third, and consecutive offenses, you face a $500 fine and up to 60 days in jail. The license is suspended for approximately a year, and the vehicle is subject to a 60-day ignition interlock device requirement.
The jury may also require you to perform community service as part of the DUI penalty. You might also be required to submit to regular, arbitrary drug and alcohol testing, participate in drug and alcohol education programs, and talk about how your behavior affects others. Additionally, the penalties are tougher, and it is regarded as a Class A misdemeanor if the DUI/OWI charge is significant or if you had a BAC of 0.15% or greater. A major DUI/OWI conviction can result in a year in jail, a $5,000 fine, and a year of wearing an ignition interlock device.
Can I Refuse A Breathalyzer Test In Indiana?
You have the right to refuse the officer's request for a test even though implied consent regulations mandate that you do so when asked. It might be challenging for prosecutors to demonstrate that you were operating a vehicle while intoxicated if you declined a breath test. In other words, your chances of having your DUI charges dropped are probably best if you refuse to take a breathalyzer.
However, there are repercussions if you decline a Breathalyzer. In Indiana, your license will be suspended for a year if you receive a ticket for the first time and two years if you have previously been found guilty of OWI/DUI.
It's also crucial to remember that denying a breath test won't exonerate you from a DUI or OWI accusation. The officer may have enough other evidence to prove that you were intoxicated even though you failed the breathalyzer. Officers may determine if you are intoxicated based on your behavior, the circumstances, and the field sobriety test results. That might be sufficient evidence for a prosecutor to convict you.
A Carmel DUI defense attorney can assist you in fighting your DUI accusations in various ways, even if you submit to a breath test. For instance, the attorney can argue that the initial traffic stop was invalid or that the breathalyzer test wasn't conducted properly. Consider speaking with Rathburn Law's DUI defense lawyer in Carmel to determine the appropriate course of action.
Implied Consent Laws IN Indiana
According to I.C. 9-30-6-1, all Indiana drivers must consent to chemical tests. Driving while intoxicated, whether from drugs or alcohol, is prohibited in Indiana. This is prohibited by the implied consent law, which also forces all drivers to consent to the test. It also aims to assist law enforcement in obtaining the proof required to prosecute criminals.
A drunk driver could believe it's a good idea to refuse a chemical test. However, refusing is against the law. Indiana has some of the harshest penalties in the nation. Your driver's license might be suspended for at least a year if you violate the implied consent statute.
Failing the tests does not result in the charges being withdrawn. According to the law, declining a test can be used as evidence of intoxication in court. The license suspension will also include fines for failing the tests if found guilty. Therefore, declining tests should only be done after considering the risks and outcomes.
It isn't easy to decide whether or not to abide by Indiana's implied consent statute. There is no such thing as an always right or always bad decision. Even after considering every aspect of your case, no one can predict the outcome with certainty. Before responding to any accusation, you should speak with an experienced DUI defense attorney in Carmel.
What Is A Felony DUI In Indiana?
A DUI charge in Indiana is often filed as either a Class C or Class A misdemeanor, depending on the circumstances and purported test results. However, if you were previously convicted of a misdemeanor DUI during the seven years preceding the current accusations, the crime is now a Level 6 felony. Operating while intoxicated becomes a Level 6 felony if you are at least 21 years old and a juvenile (under 18 years old) is in the vehicle.
A Level 6 felony conviction carries a potential sentence of 180 to 910 days in jail and a $10,000 fine. If you are previously convicted of a crime and found guilty of felony DUI, you must serve at least five days in prison and a minimum of 10 days if you have previously been found guilty of the same crime. The court may suspend your driving ability for at least a year, although you may still qualify for Specialized Driving Privileges.
Rathburn Law can assist you if you've been charged with felony DUI due to a prior DUI conviction or because you were pulled over for DUI while a child was in the car. Our Carmel DUI defense attorneys provide a distinct perspective and a wealth of knowledge to every case. If you have inquiries concerning your ongoing DUI case, driver's license suspensions related to DUI charges, or if you require expert assistance applying for Specialized Driving Privileges in Indiana, please get in touch with Rathburn Law.
Common Defenses In DUI Cases
You know how severe the offense is if you've been stopped and accused of DUI in Indiana. You might be required to pay penalties, lose your license, or even go to jail. DUI charges can be defended, although they may appear difficult. A competent Carmel DUI defense attorney can assist you in identifying the unique aspects of your case and the most effective DUI defenses. Here are the common defenses in DUI cases:
Lack Of Probable Cause To Stop
Your DUI charges may be dropped, or your conviction may be overturned if the police stopped you and searched you or your vehicle without a valid reason, if there was an issue with the chain of custody, if officers improperly coerced you into confessing, or if the prosecution refuses to provide you with evidence that could clear your name.
An accomplished Carmel DUI defense attorney is the ideal person to defend your conviction. So, if you've been charged with DUI, get in touch with a Carmel DUI defense attorney from Rathburn Law.
Challenging Accuracy Of Tests
Breath tests, often known as breathalyzers, assess your blood alcohol content and the amount of alcohol in your lungs. This indirect method of determining your blood alcohol level could provide a misleading reading because one test is insufficient to determine the amount of alcohol in your system.
Variations in body temperature cause falsely high test results while the test is being administered. Even the breathalyzer has a 10% mistake rate, which could result in excessively high readings. A DUI defense lawyer in Carmel can assist in identifying issues with breath tests that might be utilized as a strong defense in a DUI case with the aid of a forensic toxicology specialist.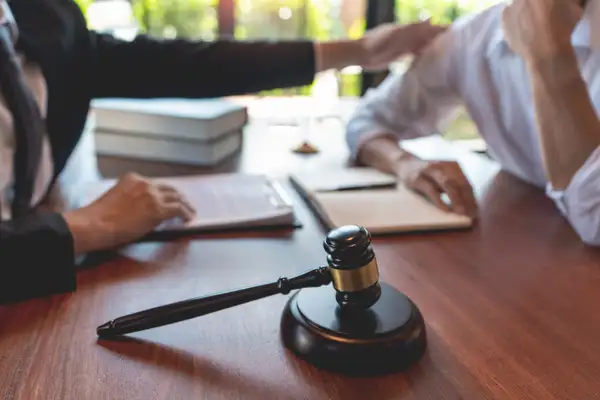 How Can A Carmel DUI Defense Lawyer Help Me?
Rathburn Law is aware of how critical it is for clients facing a DUI conviction to have qualified legal counsel. Here are all the ways our DUI defense lawyer in Carmel can assist you in safeguarding your future and obtaining the greatest outcomes:
Obtaining Evidence
There must be evidence of your guilt or innocence in DUI conviction cases, just like in all other legal proceedings. It can be difficult and time-consuming to obtain such evidence in stressful circumstances. But this step is essential to get the finest outcomes.
Rathburn Law's DUI defense lawyers in Carmel will handle this responsibility. They will compile all of the testimony from witnesses, expert testimony, papers, and other evidence that will prove your innocence and assist you in making the right choice. We could invalidate the field sobriety test, which would demonstrate your innocence, or we might establish that the arresting officer made a mistake.
Protecting Your Interest
Your Carmel DUI defense attorney will collaborate with you with the single objective of obtaining the best result for you. This might, in some circumstances, result in the dismissal of all of your accusations. In other cases, it can entail making an effort to have the costs reduced to minimize the impact on your future.
Our DUI defense attorneys in Carmel will speak for you, make arguments, and enter into negotiations. We'll handle speaking in court while interacting with other law enforcement personnel to present your case in the best possible light. You might avoid paying hefty fines, losing your license, or even going to jail.
Hire An Expert Carmel DUI Defense From Rathburn Law
Charges for drunk driving are taken very severely in Indiana. You must take immediate action to safeguard your rights if the police stop you and claim you were driving while intoxicated. If your blood alcohol level was 0.08% or greater; breath, blood, or urine tests could indicate that you were driving while impaired. You risk spending much money and time in jail if caught driving after drinking in Indiana. DUI is a Class A misdemeanor with a maximum one-year prison sentence and a $2,500 fine. You require the assistance of a knowledgeable DUI defense attorney in Carmel, Indiana.
For many years, Rathburn Law's DUI defense attorneys in Carmel have fought for the rights of DUI victims in Indiana. We know that being accused of DUI carries a variety of consequences, including losing your license and spending time in jail. For this reason, we represent DUI victims while offering legal counsel for the best outcomes.
A sound defense strategy calls for contesting the initial police stop, challenging the breathalyzer, blood, or urine test, and investigating the instrument's calibration to obtain the result. Contact us at 317.671.8965 for a free case review and rigorous representation at a contingency fee.