After years of dedication to your chosen field, the last thing you want is to have your hard work taken away from you. But if you find yourself under investigation for a crime or professional misconduct, that's exactly what could happen. Your professional license could be at risk, which could ruin your finances, your career, and your life. A Notre Dame Professional License Defense Attorney may be exactly what you need to protect your reputation and career.
Thankfully, Rathburn Law in Notre Dame, IN is dedicated to defending professionals who are facing the threat of losing their licenses. We handle these cases with a personalized approach and extensive experience. So if you're in Notre Dame and facing the possibility of losing your professional license, give us a call at 317.671.8965. We're here to help you protect what's yours.
Indiana is a state that takes professional and occupational licenses very seriously. If an individual or entity is found to be in violation of the rules and regulations set forth by their respective state licensing board or agency, disciplinary action will often be taken. This could include anything from a warning to a suspension of the license. In some cases, the board may even choose to revoke the license entirely. As a result, it is important for those holding a professional or occupational license in Indiana to be aware of the rules that they must adhere to. Failure to do so could result in serious consequences.
Administrative hearings for licensing boards in Indiana are conducted in accordance with the Administrative Procedure Act (APA). These hearings are typically held when the license holder and the board have been unable to resolve the issue. The rules and regulations set out by various licensing boards are specific to different jobs. But they all must have rules for how to handle hearings that are fair and follow the APA. This ensures that all proceedings are conducted fairly and in accordance with state law.
If you are a licensed professional, it is important to be aware of the process that your governing body will follow if a complaint is made against you. Generally speaking, the process is as follows:
The board will receive a complaint and assign an investigator to look into it.
The investigator will first evaluate whether the board has jurisdiction over you. If it does, the investigation will begin. This usually entails reviewing the professional's work and talking to witnesses.
After gathering all the evidence, the investigator will make a recommendation to the board. The board will then decide whether to take disciplinary action against the professional.
If you are facing an investigation, it is important to have an experienced attorney by your side to help protect your rights.
How Do Criminal Convictions Affect a Professional License
A licensing board typically takes disciplinary action against a licensee following a criminal conviction or arrest. The type of disciplinary measure taken will depend on the profession and the severity of the violation. Board members may suspend or revoke a license, issue a warning letter, or place restrictions on the licensee's ability to practice. The board may also require the licensee to pay a fine, complete substance abuse education and treatment, or be placed on probation. In some cases, the board may require the licensee to submit to alcohol or drug testing.
Depending on the severity of the crime, a criminal conviction can lead to the loss of a professional license. This is especially true for crimes that are related to the duties of the profession, such as violence or drug offenses. Professions that work with vulnerable populations are typically stricter when it comes to criminal convictions, as they want to ensure the safety of their clients. In some cases, a licensing board may take disciplinary actions short of revoking a license, such as requiring additional training or supervision. Nonetheless, a criminal conviction can have serious repercussions for professionals in any field.
Activities that Jeopardize Your Professional License
Every Indiana Licensing Board has different requirements when it comes to obtaining and maintaining a professional license. The following are some of the grounds for complaints, investigations, and disciplinary actions from various licensing boards that we have come across: failure to satisfy educational requirements, criminal charges and convictions, inappropriate relationship with a client, document falsification, and abuse or neglect of a patient or client.
It is important to adhere to the requirements of the licensing board in order to avoid any disciplinary action. If you are facing any type of complaint or investigation, it is important to contact an experienced attorney who can help you navigate the process and defend your rights.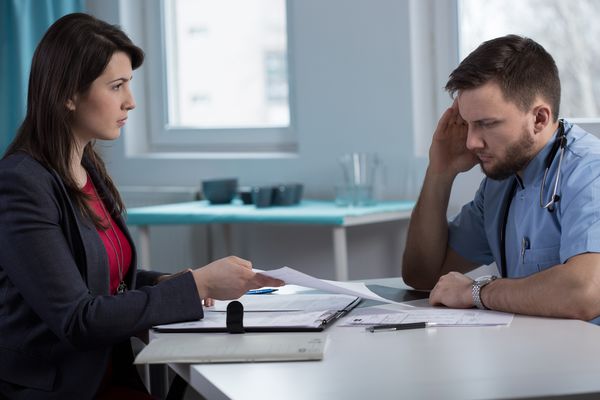 How Can an Attorney Help You Defend Your License?
If you are facing an investigation by your licensing board, it is vital to have an experienced license defense lawyer by your side. Your attorney should be knowledgeable in Indiana laws pertaining to your specific profession. This way, you can give yourself the best chance at getting the investigation closed without affecting your career. Do not take the investigation lightly – remember that the investigators are experienced and could potentially jeopardize your livelihood. Work with a professional so that you can focus on maintaining your license and protecting your career.
Facing allegations of misconduct can be a daunting and overwhelming experience. However, it is important to remember that you have rights and there are steps that can be taken to protect those rights. By taking the time to understand the facts and evidence surrounding the case, as well as the applicable laws, you can give yourself the best chance at a successful defense. Additionally, experts may be able to provide valuable insights and perspectives that can help to improve your chances of success. Of course, communications with the investigator are also crucial; by presenting favorable information in a clear and concise manner, you may be able to reduce the severity of the allegation or even disprove it entirely. Taking these steps early on in the process can make a significant difference in the outcome of your case.
Professionals We Help
Here are a few of the types of professionals we can help:
Accountants
As a licensed accountant in Indiana, you provide an essential service to individuals, businesses, and government agencies. Your expertise is vital in ensuring the accuracy of financial records and preventing fraud. When someone makes a complaint against you, it could threaten your livelihood. That's why it's so important to have an attorney to defend your case. With our help, you can protect your license and your reputation. So if you're ever faced with a claim, don't hesitate to get in touch with us so we can help you defend your good name.
Doctors
A doctor's license is their livelihood. It allows them to practice medicine and help people. However, if complaints or questions arise about a doctor's professionalism, qualification, or standard of care, it could threaten their licensure. This is why it is so important for doctors to always be on top of medical innovations and to work hard to maintain their license. Complaints can come from anywhere, but they should not be taken lightly. At Rathburn Law, we understand how important your license is to you. Let us handle your defense so you can focus on what's important – your patients.
Lawyers
The ability to practice law is essential to many people's livelihood. In Notre Dame, Indiana, there are a number of lawyers who have been able to protect their careers with the help of a professional license attorney. Rathburn Law has represented many lawyers, legal personnel, and even law firms throughout Indiana. The doctrine of "case within the case" is one that we are intimately familiar with and can apply to your specific situation.
Nurses
Considering the dedication and effort required to achieve licensure, it is of utmost importance to protect one's license by all means. If there is a professional or patient complaint against a nurse, it is crucial to get a Notre Dame nursing license defense lawyer from Rathburn Law. Our team has years of experience in defending licenses and we will fight tooth and nail to help you keep your hard-earned nursing license.
Pharmacists
Maintaining a professional code of conduct is essential for any pharmacist. If someone suspects that you have violated this code, they may report you to the Board of Pharmacy. An investigation will ensue, and based on the findings, disciplinary action may be taken. It is important to get a pharmacist license defense lawyer as soon as possible in order to keep your license. In Notre Dame, Indiana, we have experienced and knowledgeable attorneys who can help you through this process.
Call A Notre Dame Professional License Defense Attorney From Rathburn Law
When you find yourself in a situation where your professional license is at risk, it's important to have an experienced lawyer on your side. At Rathburn Law, we have extensive experience defending licenses against complaints and investigations. We understand the importance of protecting your livelihood, and we will work tirelessly to help you achieve the best possible outcome in your case. If you are facing a professional license issue, contact us today for a free, no-obligation consultation. We can be reached at 317.671.8965 or through our online form.