A professional license represents your hard work and determination. It also acts as a basis for your livelihood by helping to keep your career afloat. For these reasons, losing a license due to conviction is always a nightmare. In all instances, it causes individuals to question your professionalism and integrity. In critical cases, it could prevent you from practicing for some time.
We recommend using a Hamilton County professional license defense attorney from Rathburn Law to avoid losing your license. Our lawyers specialize in professional licensing, distinguishing them from other attorneys.
Contact us today at 317.671.8965 for a free and confidential case review.
It is possible to defend your case at any stage of the license defense process. However, we recommend you reach us immediately after receiving the complaint letter. That way, our Hamilton County professional license defense attorney ensures you go through the process, eliminating any likelihood of leaving behind loopholes.
Complaint
Upon receiving your complaint, our very first task is to review it. Reviewing helps us determine the time needed to develop the best response. We then reach out to the attorney general's office and request enough time to draft a response.
Waiting For The Charges
We hope the attorney general will have no reason to raise charges against you at this stage. However, sometimes the dynamics of the complaint could cause the attorney general to increase charges against you. We must devise the best defense to counter the charges when this happens. The case dynamics determine if we opt for a settlement or make an agreement to avoid having a hearing.
Hearing
In cases where a hearing is inevitable, we take up the role of defending you in person. Having a highly qualified lawyer represent you is essential since a hearing in front of your peers can be embarrassing and very emotional. Your peers also have a good knowledge of the policies in your profession, so you cannot risk having an attorney unfamiliar with the existing policies.
License Reinstated
Our goal at this stage is to ensure your professional license is reinstated. We do all that is necessary and within our ability to make sure that you either get a settlement, agreement, or win in the hearing.
You must note that a criminal defense lawyer cannot be hired on behalf of a license professional. That is because the professional licensing board is administrative and does not use hearsay, evidence, and objection used in the trial courts.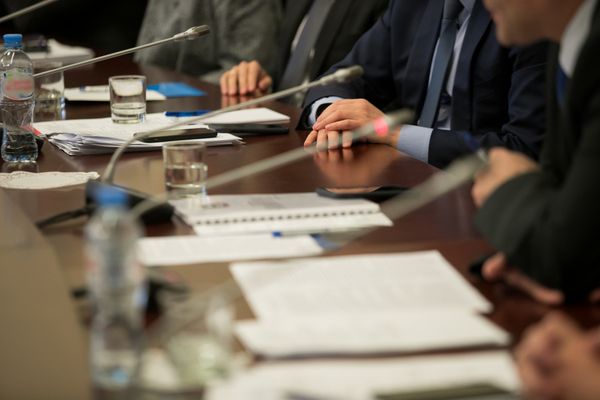 Impact Of Criminal Convictions On A Professional License
A criminal conviction will always harm the professional license. The severity of every punishment matters, so you should contact a Hamilton County professional license defense attorney to handle your case. Some of the disciplinary actions given by the licensing agency or board include:
Suspension
Usually, the board or agency will give a suspension of at least 90 days if they determine that the actions of a professional pose a risk to the public. Sometimes the suspension might be given for an indefinite period according to the seriousness of the offense involved. In such cases, the board or agency always gives a minimum period after which they can allow a professional to seek reinstatement.
Revocation
If a board or licensing agency revokes a license, the professional cannot get a new license for seven years from when the license was revoked.
Probation
When a professional is given probation, they will be expected to work under supervision or with certain restrictions. For example, they may be restricted to only offering a few services, carrying out community services, or going through remedial education.
Fines
When a professional is fined, they must make monetary payments to the licensing board or agency. The number of fines varies since they are determined by the type of offense an individual committed and the impact it had or was likely to have on the public.
Reprimand or Censure
Censuring means that a professional will receive disapproval from their licensing board. Reprimanding involves getting an official record of discipline. While the records may not affect the professional's practice, they are always available to the public and can cause a negative perception of the professional.
Activities That Put Your Professional License At Risk
Several activities can put your professional license at risk, making it necessary to use the services of a Hamilton County professional license defense attorney. Notably, some of the reasons have nothing to do with your performance as a professional. It is possible to have a situation in your personal life affecting your professional life.
Some of the actions that could put your professional license at risk include:
Criminal charges
Allegations of misconduct
Inappropriate romantic relationships with clients or patients
Medical malpractice
Substance abuse
Drug diversion
Illegally prescribing narcotics
Medical insurance fraud
Theft
How Can an Attorney Help You Defend Your License?
Our Hamilton County professional license defense attorney is responsible for ensuring that you handle licensure complaints and problems in the best way possible. By so doing, we prevent any negative impacts that could negatively impact your professional abilities. It is advisable to avoid self-representation or using a criminal defense lawyer when faced with a complaint. What you need is our license defense attorney.
At Rathburn Law, some of the professionals we help include:
Accountants
Accountants in Indiana are governed by the Indiana Board of Accountancy, which works with the PLA. The board is responsible for licensing public accountants and certified public accountants. When faced with a complaint, accountants should contact an experienced individual in accountant licensing matters.
Doctors
If you are a doctor and need a license defense attorney to represent you before the Medical Licensing Board of Indiana, Rathburn Law is the place to get help. We ensure that the clients' complaints and disciplinary actions do not tamper with years of hard work.
Nurses
Complaints against any nurse will likely mess up a career journey that started with lots of practical training. Our work is to ensure that the Indiana States Board of Nursing does not take action against you that could tamper with your career progress. We also ensure that the clients you attend have a high level of trust in you by maintaining the integrity of the license.
Psychologists
To be a licensed psychologist in Indiana, psychologists undergo rigorous training. To reduce the risks caused by a client's complaints, we offer license defense assistance and representation before the Indiana State Psychology Board. We recommend professional representation due to the administrative nature involved in the proceedings.
Home Inspectors
In Hamilton County and throughout Indiana, home inspectors are governed by the Home Inspectors Licensing Board. A buyer or seller complaining about a sale or a purchased item is common. Home inspectors must always counter any claims professionally made against them. Using the help of an experienced license defense lawyer serves the purpose way better than aiming at self-representation.
No professional in Indiana is immune to activities that may cause them to require the help of a license defense attorney. If anything, the law in Indiana requires most professionals to be licensed before they can start practicing legally. License defense is also crucial because some of the activities that could cause you to be convicted are personal or unintended.
Speak With A Hamilton County Professional License Defense Lawyer
Your service to the community is essential to you and to the public. The experienced professional license defense attorneys at Rathburn Law are experts at license defense in Hamilton County and will represent your interests before any licensing board. To talk to us, reach us at 317.671.8965. We offer FREE initial consultations.